Brand Building . Corporate Social Responsibility
Wir geben deiner Heimat ein Dach
In close collaboration with our client, a communication strategy and cross-channel marketing campaign has been crafted to tell the story of the Creaton brand, a both traditional and innovative rooftile producing company based in Germany, rooted in the regions. With the campaign the message is transported througout all B2B customers and their clients, that Creaton as a company takes social responsibility. Through the experiental campaign Creaton shows 'purpose' straight from the heart in supporting regional volunteer projects. House owners and roofers can picture their new roof in a social media contest, for the winner Creaton donates money to a local nont-for-profit organisation.
Client: Creaton GmbH
Agency Services: Development of communication strategy, concept experience marketing element, content creation, copytext, graphic design, videoscript, executive production of video, visuals and animations, executive production of images, remote supervising of fotoshooting. AND as a very special: gesture design for the ultimate moment in roofing and house building … #dachdrauf or 'the roof's on', in a broader context: 'we did it'.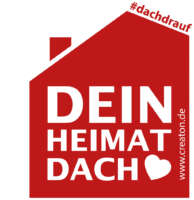 #creaton #dachdrauf #heimatdach
---